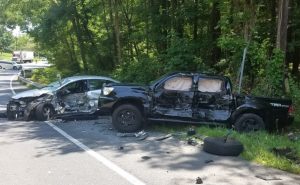 On Monday, July 10, 2017 at approximately 12:50 p.m, police and emergency personnel responded to Point Lookout Road, in the area of Thompson Orchard Lane, in Lexington Park for the report of a vehicle motor vehicle accident with injuries.
First Responders arrived on scene to discover a motor vehicle crash involving three vehicles, with one of them on their side. A Ford Focus and two Toyota Tacomas were involved.
Early reports from the scene, indicate the Toyota Tacoma on it's side was identified as the at-fault vehicle.
All three single occupants of the vehicles were taken to MedStar St. Mary's Hospital with non-life-threatening injuries.