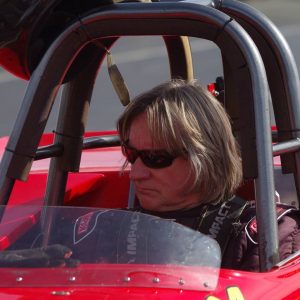 Official St. Mary's County Sheriff's Office Press Release: On July 23, 2017, at approximately 8:02 pm, the St. Mary's County Sheriff's Office responded to the Maryland International Raceway in Mechanicsville, Maryland for a reported crash on the drag strip.
The investigation revealed, the driver, Thomas Albert Dunford, age 60, of Tazewell, Virginia was participating in a race at the Maryland International Raceway.
For unknown reasons, it appears he failed to activate his brakes or parachute causing the dragster to travel through the sandpit, water barrels, and into the trees at the end of the track.
Medical emergency personnel pronounced Dunford deceased at the scene.
The St. Mary's County Sheriff's Office Collision Reconstruction Unit responded to the scene to assist with the investigation.
Anyone who may have witnessed the crash or has additional information is asked to contact Corporal Brian Connelly at 301-863-4816, ext. *1456 or by email, Brian.Connelly@stmarysmd.com.
UPDATE 7/24/2017 @ 9:30 a.m.: The deceased has been Identified as Thomas Dunford, of Tazewell, Virginia.
UPDATE 7/23/2017 @ 10:25 p.m.: Witnesses at the track said the "dragster" driven by a Virginia man had just ran a eighth mile run at just over 4.5 seconds, when the driver never let off the gas after the run. The parachute was never released, and the car accelerated through the safety netting and sand trap at the end of the track.
UPDATE 7/23/2017 @ 8:50 p.m.: Members of the Sheriff's Office Crash Reconstruction Team are responding to the scene and assuming the investigation.
7/23/2017 @ 8:30 p.m.: A Fatal motor vehicle accident has been reported at Maryland International Raceway, in Mechanicsville.
Early reports indicate a car had crashed at the end of the drag strip, no other information was provided.
The driver was pronounced deceased by emergency personal at the scene.
The 2nd Annual F.T.I Competition Converters & Transmissions Super Bowl of Bracket Racing event was being held at the track today.