1.6 Million Cards Have Been Issued Protecting Marylanders Against Identity Theft and Fraud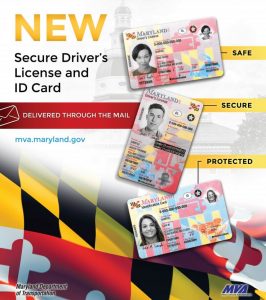 One year after the Maryland Department of Transportation Motor Vehicle Administration (MDOT MVA) introduced the new secure Maryland Proud driver's license and ID card, 1,621,982 cards have been issued to new and renewing Maryland residents.  In addition to providing a state-of-the-art security features, veterans are now recognized for their service to our country with VETERAN printed on the front of the secure card, instead of on the back.  Since the new Maryland Proud driver's license and ID card was launched last year, 33,209 cards have been issued to Maryland veterans.
"Maryland's secure driver's license and ID card have multiple layers of security that protect our customers from identity theft and fraud," said state Transportation Secretary Pete K. Rahn. "We are proud to provide Marylanders with the most secure card in the nation."
Recently, the Maryland Proud secure card was honored with the Elan Award for Manufacturing Excellence.  The award recognizes innovative card manufacturers, personalizers, issuers, and suppliers who support a commitment to design quality, technical innovation, and the future of the global card industry.
"We are very proud of the card's security and the iconic Maryland symbols featured on it, such as the Oriole bird, State House, and Chesapeake blue crab," said MDOT MVA Administrator Christine E. Nizer.
Before its 2016 update, the card was last changed in 2003.  The old technology was vulnerable to counterfeiting and other fraudulent activities.  The Maryland Proud driver's license and ID card is REAL ID complaint, meets all federal and state standards, and has improved security features.
Examples of the security features include:
Polycarbonate card body – durable, tamper-resistant, and secure;
Changeable laser image – enables two or more images to occupy the same area;
Laser engraving – provides protection against manipulation and forgery;
Inventory control number – a unique number and barcode to verify cardholder; and
Tactile text – raised print, making it difficult to tamper or modify.
To further improve security for our customers, all cards are now printed and mailed from a high-security MDOT MVA facility.  This change provides for a more secure distribution process and limits access to card materials.  Customers receive their secure card through the U.S. mail in 7-10 business days.  Customers keep their existing card (if they have one) and receive an interim document (receipt), which can be used for identification purposes until the secure card arrives in the mail.  The interim document is valid for 30 days.  The United States Postal Service does not forward MDOT MVA mail.  MDOT MVA encourages customers to update their address online at mvaonline.md.gov.
"We encourage customers ready to renew their secure driver's license or ID card to skip the trip to the MDOT MVA and renew at your convenience via web, kiosk, and mail," said Nizer.
If a customer must visit an MVA office, they should do the following:
Bring any required documents;
Take any tests required;
Have a photo taken; and
Pay required fees.