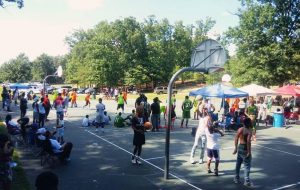 As the Nicolet Basketball Associations' 2017 Summer League season approaches the end, we would like to take the time to reflect on the positivity at Nicolet Park located in Lexington Park, Md.
The "NBA" players, staff and fans are anxiously awaiting our Playoffs, Championship, and Invitational games to bring the season to an end. This summer was full of exciting basketball games with lots of slam dunks, 3-point fadeaway shots, and overtime game winning free throws, from our 12 teams of 120 players from the Lexington Park Community and surrounding cities. The roster was loaded with collegiate, semi-pro, and elite athletes from our area. The players were able to showcase their talents to their families, friends, and local fans.
Our "NBA" fans, which numbered in the hundreds each game, were able to join in on the fun and had the opportunity to come out and show their support to the players by cheering them on and sweating it out with us.  The fans also brought bottled water and ice for the players each game. We came together as a community and showed the world, via Facebook Live and other social media sites, how a city can come together as one for the love of the game.
The "NBA" is about more than just basketball, it's about bringing the community together and providing something else better to do, than the local Detention Center.  We have people from the community that volunteer their time each year to help referee, coach, and assist in making each season a success. The "NBA" will continue to strive forward with this mission each summer for years to come.
Within the next 3 weeks, we will conclude our season with our Single Elimination Playoff games on August 5th , 11am -5pm and August 10th, 5pm-8pm and our Championship game will be held on August 12th at 5pm.  We will be ending our season with our 1st Annual Nicolet Basketball Association Invitational on August 19th at 5pm, which will also include a 3-Point Shootout and a Dunk Contest. All Nicolet Basketball Association games will continue to be held at Nicolet Park and will continue to be free to the public.
We would also like to thank the local businesses for donating hotel stays, free haircuts, gift baskets, and gift cards. And a special thank you to our sponsor, Showtime Deli, for believing in and supporting the league and our community.
If you would like to volunteer, donate or sponsor a player or team, please contact John Duckett at 240-434-8249 or [email protected].