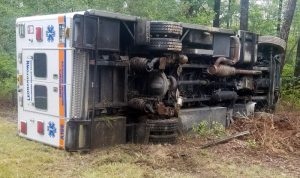 On Saturday, July 29, 2017, at approximately 2:50 p.m., emergency personnel responded to Medleys Neck Road in the area of Whirlwind Road, in Leonardtown for the report of an ambulance overturned.
Leonardtown Volunteer Rescue Squad, Ambulance A196 was returning to their station after running a call when the vehicle left the roadway and overturned.
The ambulance was occupied by a driver and two crew members at the time of the accident. Two of the occupants were taken to MedStar St. Mary's Hospital, and another refused treatment at the scene.
The accident is being investigated by the St. Mary's County Sheriff's Office.