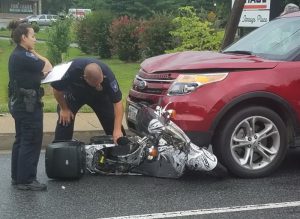 On Monday, August 7, 2017, at approximately 11:20 a.m., police and emergency personnel were dispatched to Great Mills Road, in the area of Lexwood Drive, in Lexington Park for the report of a motor vehicle accident involving a motorcycle.
Crews arrived on scene and discover a two vehicle collision involving a SUV and a motor scooter, the male operator of the scooter was found lying in the roadway.
The scooter operator was transported by ambulance to an area trauma center for treatment.
The St. Mary's County Sheriff's Office is investigating the crash.