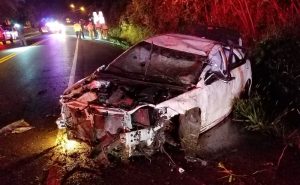 On Saturday, August 12, 2017, at approximately 3:10 a.m., Troopers from the Maryland State Police Prince Frederick barrack responded to a single-vehicle crash on Plum Point Road and Stinnett Road, in Huntingtown.
The investigation revealed, Ashely Shae Donaldson, 24, of Chesapeake Beach, was driving a Toyota Camry on Plum Point Road when her vehicle left the roadway and struck a drainage ditch. The vehicle continued across a driveway into an embankment and overturned multiple times, ejecting Donaldson from the vehicle.
Donaldson was pronounced dead at the scene, and her body was taken to the Maryland Medical Examiner's Office where an autopsy will be performed.
Speed and weather appear to contributing factors in the crash.
The investigation was conducted by Trooper Stull, and the MSP's Crash Reconstruction Team.