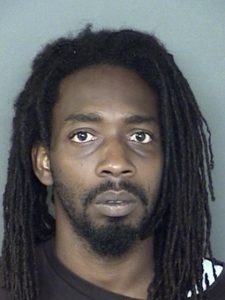 On Friday, August 4, 2017, Deputy P. Henry, of the St. Mary's County Sheriff's Office responded to the St. Mary's County Adult Detention Center for a report that an individual was present there for whom an active warrant was issued. The warrant had been confirmed through St. Mary's County Sheriff's Office headquarters.
Police made contact with Deuan Manuel Herndon, 31 of Lexington Park and advised him they were in possession of a warrant for his arrest, upon hearing this, Herndon questioned why there was a warrant and ran towards the exit to the detention center exiting the building. Commands were given for Herndon to stop and he initially failed to do so.
Cpl. Kerby was in the area and intercepted Herndon with his tazer drawn, after being confronted with the tazer, Herndon responded to commands and was placed into custody.
Herndon was searched and an amount of marijuana, less than 10 grams was found in his possession for which he was issued a civil citation.
Herndon was also charged with resisting arrest.