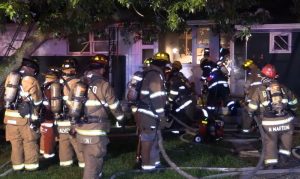 On Tuesday, August 22. 2017, at approximately 12:05 a.m., firefighters responded to the 23000 block of North Patuxent Beach Road, in California for the report of a house fire.
Firefighters arrived on scene to find a story, single family home on fire with heavy smoke showing.
It took approximately 30 minutes for firefighters to bring the blaze under control.
The preliminary cause of the fire is listed as incendiary.
No injuries were reported, smoke alarms were present and operating
The total estimated loss to the building and contents ans estimated at estimated $75,000.
Deputies from the St. Mary's County Sheriff's Office were called to the scene for two occupants at the home that were being uncooperative answering questions for firefighters at the scene.
The two occupants from the group home are being assisted by Pathways of St. Mary's County.
Maryland State Fire Marshall's were called to the scene and continue to investigate.
Anyone with any information regarding this incident is asked to contact the Office of the State Fire Marshal, Southern Regional Office, at 443-550-6832.