192,702 Transactions Completed Since 2002; 100 Percent Customer Satisfaction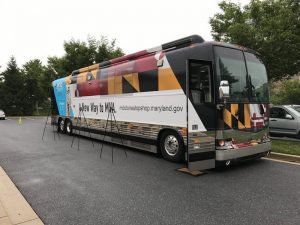 Maryland Department of Transportation (MDOT) Secretary Pete K. Rahn today joined MDOT Motor Vehicle Administration (MVA) Administrator Christine E. Nizer at Leisure World to celebrate the 20th anniversary and new design of the MDOT MVA Mobile Bus.
"The MDOT MVA Mobile Bus truly delivers on Governor Hogan's promise to provide premier customer service to all Marylanders," said Secretary Rahn.
Over the past 20 years, the Mobile Bus has consistently achieved 100 percent customer satisfaction. Since
MDOT MVA began collecting data in 2002, the Mobile Bus completed 192,702 transactions through June 2017. The Mobile Bus helps Maryland residents obtain products and services they need at a convenient one-stop-location. This service provides one more option – along with our website, self-service kiosks, telephone services and mail-in processes – to conduct MDOT MVA business.
"MDOT MVA is proud to provide these convenient services directly to the residents of Maryland," said Administrator Nizer. "The MDOT MVA Mobile Bus allows customers to complete their transactions at their convenience, giving them precious time back in their day."
The MDOT MVA Mobile Bus offers the following services:
Renewing, duplicating, and correcting a Maryland driver's license, commercial driver's license, or identification card;
Obtaining a copy of certified driving record;
Obtaining disability placards/plates;
Returning tags and applying for a tag refund;
Applying for a change of address card;
Renewing a vehicle registration;
Obtaining replacement plates, stickers, and registrations;
Paying administration flag fees;
Registering to vote; and
Registering as an organ donor.