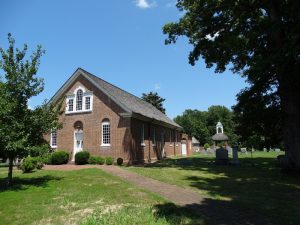 All Faith Episcopal Church, located at 38885 New Market Turner Road, Mechanicsville, Maryland, will be hosting an open house and homecoming service on September 24 at 4 p.m. The church is commemorating the 325th anniversary of the founding of All Faith Parish, which dates back to 1692. All Faith Church has been located at the same Mechanicsville site since an original log structure was built there 362 years ago in 1655. The current Georgian, Flemish bond brick structure, which was built in 1767, is 250 years old.
The event on September 24 will feature a church history service followed by a reception in the parish hall with displays of historic artifacts, scrapbooks and refreshments. Local residents who may have photographs of weddings, baptisms, or memories of attending services at the church are encouraged to share their materials with All Faith Church by contacting Pat Fistick at [email protected].
A commemorative booklet is being published and will be available for purchase. The book features the history, architecture, rectors, and families of the All Faith Church and Parish since 1655. Based on two years of historic research, the booklet describes the relationships of the colonial land grant plantations along the Patuxent River, including The Plains, Trent Neck, Cremona, DelaBrooke Manor, and Sotterley, and their significance in the development of All Faith Parish.
The booklet also features the stories of the five Chapels of Ease of All Faith Parish, including For Mile Run Church at Sandy Bottom, the Old Red Church at Laurel Grove, St. Faith Church at Mechanicsville, St. Mary's Church at Charlotte Hall, and Dent Memorial Chapel at Charlotte Hall Military Academy, where the Charlotte Hall Veterans Home is now located.
For more information about the September 24 event, call All Faith Episcopal Church at 301-884-3773, or visit the website at www.allfaithchurch.com.



All Faith Church History:  When the Parish of All Faith in St. Mary's County was created in 1692, the Parish Church at Huntersville was already built and named "All Faith."  According to competent authority, the name "All Faith" was originally "Allfaiths" because in Resurrection Hundred it was the only building set aside for religious worship and all religious faiths used it.
All Faith Parish is fortunate in that most of its ancient records have been preserved.  The first entry in these old records has to do with the establishment of the Parish by the Colonial Legislature of Maryland, being number twelve of the Establishment.
Like many old Churches, the original structure was built of logs.  It was located on the site of the present building and was erected around 1655.  This building was rebuilt in 1693 and finally replaced by the present colonial (Flemish bond) brick structure in 1767.