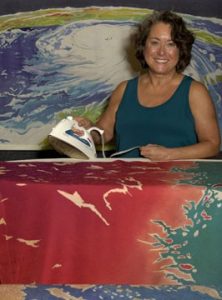 The Patuxent River Naval Air Museum is proud to announce the opening of its first art exhibition: Aerial Inspirations. The exhibit will feature the work of Mary Edna Fraser, a Charleston-based artist. Large scale installations of silk fabric dyed in batik fashion and inspired directly by Fraser's aerial photography of land and sea will be installed in the new building this fall. An opening night reception is also planned with a lecture and book signing to be held the following night.
Join us for an evening reception with the artist.
On August 23rd at 7pm, the Patuxent River Naval Air Museum will host a reception where you will have the opportunity to meet Mary Edna, and be among the first to view the works installed in the museum.
The reception will include light hors d'oeuvres from Personalized Touch Catering. Sodas, water, and a cash bar will also be available while you mingle with other friends and sponsors of the museum.
Come learn about the artist's process.
Ms. Fraser will be holding a lecture and book signing where guests will be able to earn about Mary Edna and her artistic process. The lecture will be August 24th at 6pm.
Tickets for both events can be purchased in advance at http://www.paxmuseum.com/plan-your-visit.php and will be available at the door. The batik art will be on display in the main museum hall until October 13 and viewing the works is included in the regular admission fees.
Association members receive a discount on tickets.