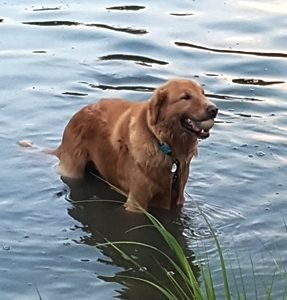 Wednesday's Pet for 8-16-17 HENRY
Featured Pet: Henry
Rescue Group: Second Hope Rescue
Breed: Golden Retriever
Sex: Male
Size: Large
Vetted: Neutered and Up-to-date with routine shots
Adoption Fee: $250.00
Henry is a 7-year-old Golden Retriever that still acts like a puppy. He loves the water, even mud puddles. Henry walks great on a leash and is house and crate trained. He does well with cats, but will do best as the only dog in the home. Henry is dog selective so any meetings with dogs have to go slowly. He is an awesome dog that will need love and discipline. Henry will make a wonderful family member.
If you think he would be a great addition to your home please send an email to [email protected]
A little bit of breed information:
Golden Retrievers are sturdy, medium to large sized dogs. They are loveable, well-mannered, intelligent dogs. They are a devoted and self-assured family dog. Golden Retrievers love to please their owners, so obedience training can be very rewarding.
"He is your friend, your partner, your defender, your dog. You are his life, his love, his leader. He will be yours, faithful and true, to the last beat of his heart. You owe it to him to be worthy of such devotion."
– Unknown