Wednesday, Sept. 20 and Thursday, Sept. 21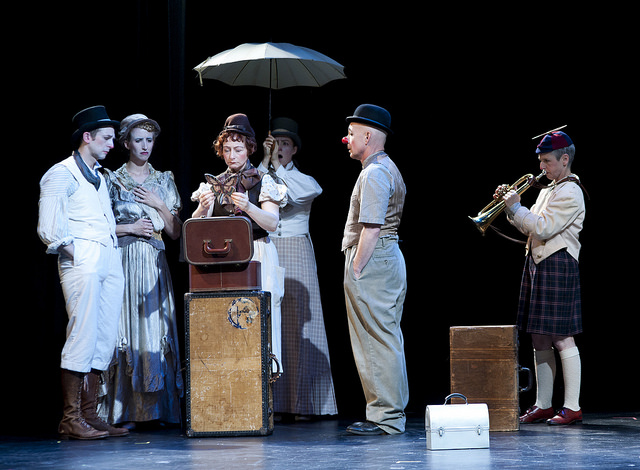 St. Mary's College of Maryland's department of theater, film, and media studies will host Happenstance Theater Company, one of Washington, D.C.'s pre-eminent performance troupes, as they perform "BrouHaHa" on Wednesday and Thursday, Sept. 20 and 21 at 8 p.m., in the Bruce Davis Theater, Montgomery Hall Fine Arts Center, on the St. Mary's College campus. The performance lasts about 80 minutes.
Performances of "BrouHaHa" are free and open to the public but seating is limited. Reservations are required. To make reservations, contact the Theater Box Office by email at [email protected] or by phone to 240-895-4243. Tickets must be picked up no later than 7:45 p.m. the evening of the performance.
Happenstance Theater Company is a six-member, Rockville, Md.-based performance troupe steeped in the traditions of commedia dell'arte, clowning, circus, and vaudeville. The company is a multiple Helen Hayes award-winning ensemble hailed by the Washington, D.C. press for its superb improvisatory skills, physical humor, and, above all, spontaneous interactions with the audience.
In "BrouHaHa," the show the company brings to St. Mary's College, a troupe of Victorian clowns greets the end of the world with pathos and levity. Their curiosity at the precipice lights up the darkness like a firecracker! What happens in that moment of illumination?
"BrouHaHa" takes its inspiration partly from the dark comedy of Irish playwright Samuel Beckett, famous for his play "Waiting for Godot," and from Italian filmmaker Federico Fellini's late Neorealist-inspired film about circus performers, "La Strada."
A screening of "La Strada" will take place at 8:10 p.m. on Tuesday, September 12, a week before the "BrouHaHa" performances, in Cole Cinema, located in the Campus Center on the St. Mary's campus. Hosted by Mark Rhoda and David Ellsworth of the theater, film, and media studies department, the screening is free and open to the public.