Students and Drivers Urged to Stay Alert: Walk Smart – Drive Smart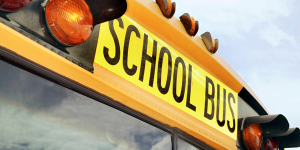 As families across Maryland prepare for the start of the school year, the Maryland Department of Transportation State Highway Administration (MDOT SHA) joined AAA, Prince George's County Department of Public Works and Transportation, Prince George's County Public Schools (PGCPS) and Prince George's County Police at Ridgecrest Elementary School to remind drivers and pedestrians that everyone has a role in keeping Maryland's youngest commuters safe. As school children walk to bus stops, stand along roads and walk to school, drivers need to pay attention for pedestrians. Students, some serving as AAA School Safety Patrollers, issued an important reminder message to both pedestrians and drivers to "Look Up, Look Out" and stay alert.
"We urge everyone to Look Up Look Out to keep our youngest commuters – children and students – safe this school year. There is no competition between your vehicle and a child. If everyone follows the rules of the road by putting down their devices, looking up and looking out, everyone will make it home," said Maryland Department of Transportation State Highway Administrator Greg Slater. "Along with educational student assemblies, we are reminding drivers to slow down and pay attention through public service announcements and social media."
"The Prince George's County Department of Public Works and Transportation is pleased to be a part of the Look Up and Look Out campaign partnership to make walking and biking safer for children in Prince George's County. It's a great way to get everyone focused on safety, beginning with our youngest citizens," said Director of the Department of Public Works and Transportation Darrell B. Mobley.
The first day for all students in Prince George's County Public Schools is Wednesday, September 6. "The PGCPS Office of Transportation is excited to welcome more than 82,000 students back onto our buses for the new school year. Approximately 49,000 students walk, cycle and ride in cars," said Rudolph Saunders, Acting Director of Transportation, Prince George's County Public Schools. "We are asking drivers to join with us in keeping our students safe by slowing down, and stopping for school buses and for pedestrians crossing."
"Because schools are opening in Maryland after Labor Day this year, we will experience the full brunt of 'Terrible Traffic Tuesday' the day after Labor Day," said John B. Townsend II, AAA Mid-Atlantic's Manager of Public and Government Affairs. "For some drivers, traffic delays will double on some freeways over the August doldrums. For the safety and the sake of our children, don't try to compensate for that recklessly speeding through neighborhoods and school zones. Area motorists must get back into the habit of slowing down and watching for children in school zones and along walking and biking routes, sharing the road with school buses, and parents in drop-off and pick-up lanes, and stopping for school buses loading or unloading children. Child safety is the most important thing we do on area roadways each school day, whether we are parents or not."
Last year in Maryland, 107 pedestrians were killed and another 3,318 people were injured. More than 500 of the pedestrians involved in Maryland crashes were age 15 or younger.
Last year, backpacks were distributed to more than 60,000 elementary school students in Prince George's County. To continue the Look Up, Look Out pedestrian safety campaign and outreach to children, Chick-Fil-A distributed backpacks with reflective strips and educational information throughout the summer. To keep the message in front of our youngest pedestrians, the Chick-Fil-A cow will be visiting elementary schools as part of a Walk Smart assembly. Parents were encouraged to enter names of schools in a drawing throughout the summer; winning schools will be announced on September 19, 2017.
AAA's School's Open—Drive Carefully national campaign aims to help reduce the number of school-related pedestrian injuries and fatalities by encouraging motorists to stay alert in school zones, as well as in residential areas where children are present heading to and from school. The campaign utilizes posters, magnets, bumper stickers, handouts, media outreach and other community initiatives to reach motorists.
Motorists should be aware that enforcement is a key component of traffic safety efforts. "As the start of the school year approaches, we are asking all drivers to be aware that students will soon begin walking to and from school again. School buses will be on the roads. Please be mindful of red flashing lights on those buses and never pass a bus picking up or dropping off students. It's against the law and simply dangerous. Keeping students and all those who travel in our county safe is our top priority," said Assistant Chief Hector Velez of the Prince George's County Police Department.
MDOT SHA and partners issues these important reminders for pedestrians and drivers:
For pedestrians:
Use sidewalks and marked crosswalks whenever possible.
Press the pedestrian signal button and wait for the walk signal.
Always stop at the curb and look left, right and left before crossing a street.
Watch for cars turning in or leaving driveways.
Walk, don't run across the street.
Wear light or bight colored clothing.
Pay attention take off headphones while walking – no texting or playing games.
For drivers:
Always stop for pedestrians.
Obey traffic signs, signals and markings.
Observe posted speed limits. Speeding only makes it more difficult to stop for pedestrians.
Keep your eyes on the road. It's illegal to use a handheld phone/devise or text while driving.
When a school bus stops, the flashing red lights go on and the stop sign flaps come out, drivers in BOTH directions are required to stop. This is the most dangerous time as children getting on or off the bus.
It is against the law to pass a stopped school bus with its flashing red lights activated and stop arm extended.