Recognition comes as squadron reaches 30 years without Class "A" mishap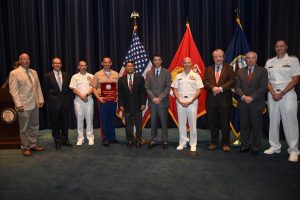 Air Test and Evaluation Squadron TWO ONE (HX-21) was presented the 2016 Secretary of the Navy (SECNAV) Safety Excellence Award for Aviation  during a ceremony at the Navy Memorial Museum in Washington D.C. in June.
The acting Secretary of the Navy, the Honorable Sean Stackley, commended HX-21 on their commitment to safety excellence, to the nation, and to the sustainment of the Department of the Navy as a world-class safety organization.
This award is presented to only one aviation command each fiscal year, amongst all Navy and U.S. Marine Corps squadrons. It has become the Department of the Navy's premier means to acknowledge commands, teams, and programs that demonstrate exceptional and sustained measures to reduce mishaps, and hazards; promote the safety of our Sailors, Marines, and civilians; and protect the Department's aircraft, ships and facilities.
"HX-21's selection as the aviation command to receive the 2016 SECNAV Safety Excellence Award is a significant accomplishment made by an extraordinarily talented and diverse team of military, government civilians and contractors," said Lt. Col. Richard Marigliano, commanding officer, Air Test and Evaluation Squadron TWO ONE  (HX-21). "This award highlights the cohesive safety culture at HX-21 enabling the safe efficient execution of developmental flight test to increase the lethality of rotary wing and tiltrotor weapon systems."
In addition to the citation and plaque awarded to the squadron, they are entitled to fly the secretary's distinctive Safety Excellence Flag for the next year.
The Safety Excellence Award was established in 2002 by the Honorable Gordon R. England, who personally wanted to recognize the "extraordinary excellence by sustained mission success with simultaneous exemplary safety performance."
The award is also meant to promote superior mission readiness by establishing a sound safety culture, implementing safety programs, and fully integrating operational risk management principles.
HX-21 operates 29 aircraft comprising 11 different type/model/series aircraft while accumulating 2,228.7 flight hours over 1,496 sorties in fiscal year 2016. They reached an impressive milestone of 30 years without a Class "A" mishap while accumulating 121,642.3 flight hours.
The squadron's Safety Management System empowers the squadron's six test teams to successfully identify and mitigate potential hazards during complex developmental flight test and evaluation through an exceptional Operational Risk Management and Crew Resource Management program.