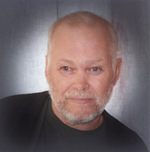 Joseph "Joe Boy" Leroy Herbert, Sr. 61 of Mechanicsville, MD passed away on August 25, 2017 at his residence. Born May 14, 1956 in Leonardtown, MD, he was the son of the late Martha Elizabeth Herbert and Howard Leo Herbert.
Joe is survived by his children: Joanne (Tommy) Sullivan of Indian Head, MD, Joseph Herbert, Jr. of Mechanicsville, MD, Howard (Jackie) Herbert, of Mechanicsville, MD, James (Ashley) Herbert of Lusby, MD, Daisy (Bill) Howe of Leonardtown, MD and Martha (Robert) Andrews.
Siblings; Margaret Lawrence, Thelma Alvey, Thomas Herbert, James Herbert, Dorothy Bonner, Joyce Solomon, Judith Oliver, Emma William, Lois Herbert, Mary Herbert, Dale Herbert, Bessie Ingram, Ernest Herbert, Martha Bonnie and Elizabeth Savage, Grandchildren; Eric Sullivan, Hallie Herbert, Allie Herbert, Gaven Herbert, Savannah Herbert, Chole Herbert, Jayden Herbert, Joseph "Bubba" Herbert, Riley Herbert, William Howe, John Howe, Justin Andrews and Kiersten Andrews.
Joe was a lifelong resident of St. Mary's County, he was a groundskeeper for Resurrection cemetery retiring in 1998 after 20 years.
The family will receive friends on Thursday, August 31, 2017 from 10:00AM to 11:00AM in the Mattingley-Gardiner Funeral Home, Leonardtown, MD, where a Funeral Service will follow at 11:00AM with Pastor Mark Hashagen officiating. Interment will be private.