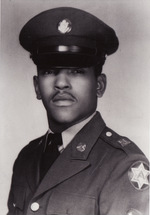 Richard Lewis Taylor, son of the late Earl Taylor and Cassie Jackson, was born on June 18, 1937 in Newton, Kansas. He spent a majority of his life in Los Angeles, California but lived in many places, such as Utah and Virginia, until he settled in Maryland.
Richard attended Kansas Public Schools and upon completing his education, he enlisted in the United States Army. Following his time in service, he moved to Los Angeles, California where he obtained a Bachelors degree in Computer Information Systems from University of California at Los Angeles (UCLA). It was during that time that he fulfilled his love of music, playing the Bass and the Bass Guitar. For a period of time, he was a member of the Redd Fox House Band and fulfilled his love of music for much of his life. Richard was employed with the Federal Government for over 30 years, until his retirement.
On June 13, 1990, he wed the love of his life, Joan Elizabeth (Swailes) Taylor, who affectionately referred to him as her "Boo Bear". Together they made a home in Hughesville, MD and celebrated over 27 years of marriage. Richard's life was illuminated with love for his family, especially his two children: daughter, Ressie Taylor and son, Craig Taylor; step-daughter, Tammy Swailes; and 7 grandchildren.
On Friday, September 15, 2017 Richard peacefully departed this life to join his mother, father, siblings-Robert Taylor, Floyd Taylor, Anna Mae Nelson and Alice Mary Elliot; and former band members in heaven. He leaves to cherish his memories: his devoted wife, Joan; his son, Craig; his daughter, Ressie; his step-daughter, Tammy; and siblings- Doris Bennet (Lawrence deceased), Erving Grady, and Margaret Alexander. Also mourning his loss are his grandchildren and a host of nieces, nephews and friends.
The family will receive friends on Wednesday, September 27, 2017 from 10:30AM to 11:30AM in the Mattingley-Gardiner Funeral Home, Leonardtown, MD where a Funeral Service will be held at 11:30AM with Reverend Joseph Statesman Officiating. Interment will follow in the Maryland Veterans Cemetery, Cheltenham, MD.