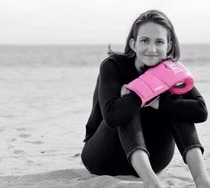 Laurie Katheryn Sanchez, 35, of La Plata, MD passed away on Sunday, September 17, 2017 at University of Maryland Charles Regional Medical Center. Laurie was born in Silver Spring, Maryland and grew up in La Plata, Maryland. She attended Archbishop Neale Elementary School and St. Mary's Ryken High School. She had a bachelor's degree in psychology from Marymount University and a master's degree in school counseling from Johns Hopkins University. She was also a certified play therapist. Prior to her time as a stay-at-home mother, Laurie worked as a school counselor and was very proud of her work advocating for children at Seven Oaks Elementary School in Baltimore, Maryland.
Laurie truly epitomized the motto, "Life is not about waiting for the storm to pass. It's about learning to dance in the rain." She struggled with stage IV breast cancer for three years but in between endless doctors' appointments, treatments, and procedures, she always found joy in life and remained active. She was a loving and attentive mother to her five-year-old son, Reed, who was everything to her. She enjoyed spending time with her family, shopping, planning outings and activities for Reed, shopping, trips to the beach with her girlfriends, shopping, interior design, and the occasional cocktail…and shopping.
Laurie is survived by her son, Reed Sanchez-DiManno; parents, Guillermo and Patricia Sanchez; sisters, Donna Fialkowski and Maria Weirich; brother, Patrick Sanchez; brothers-in-law, Paul Fialkowski and Cal Weirich; and nieces and nephews, Allison Fialkowski, Helen Fialkowski, Tommy Fialkowski, Caroline Weirich, CJ Weirich, Anna Maria Weirich, and Will Weirich.
Visitation services will be held Thursday, September 21, 2017 from 4 p.m. to 8 p.m. and funeral services will be held Friday, September 22, 2017 at 11 a.m. All services will be held at St. Ignatius Church (8855 Chapel Point Road, Port Tobacco, MD 20677).