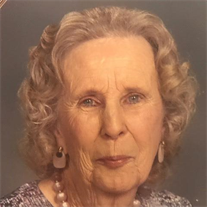 Sallie Money, a long-time resident of the Maryland area, died Monday the 18th of September at La Plata Hospital.
Born in 1927 in North Wilkesboro, North Carolina., Sallie was the eldest of four siblings and was always close to her two brothers and little sister. Her childhood was also strongly influenced by her father's work as a pastor.
After school, Sallie worked at a local store and there she met her husband and love of her life, Richard Money. After marrying, Sallie and Richard moved to the Washington D.C. area and started their family. After raising their three children, Sallie and Richard retired and moved to a farm in Virginia. They spent many years, but not as many as they hoped, on the farm where Sallie could grow as many flowers as she could plant. After her husband passed away, Sallie moved back to the Waldorf area to be closer to family and friends.
Sallie loved flowers; gardening; a perfect crabcake; a great deal at a yard sale; day trips with friends to sites in the Maryland/Virginia area. She cherished her times with her husband and family. She enjoyed going to church on Sundays and hanging out with friends afterwards for a nice lunch. Above all, Sallie loved being a wife, a mother and grandmother.
Sallie had a great spirit about her. She always remembered everyone on the holidays and everyone got a card remembering their special day. She was a ray of light and positive spirit on a daily basis. She was a gentle soul and always tried to see the more humble and better side of things and in people, no matter how terrible, which was her gift to us all.
She is survived by her son Larry Money, daughter Diana Money, grandsons Larry Money II, Kirk Money, Tim Sinnett, granddaughter Carissa Money, and nine great granddaughters and great-grandsons. All of whom brought great joy to her later years.
Memorial gifts may be made to a charity of your choice or you may send flowers.