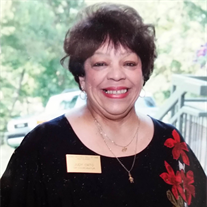 Judith Gwendolyn Cato, of White Plains, MD passed into eternal life on September 13, 2017 at the age of 78.
Born in Youngstown, OH to Dolly Jean Harris and Charles Fairfax Mitchell.
Beloved wife of Elias Franklin Cato, Sr.; loving mother of Elias Franklin Cato, Jr. pf White Plains, MD and Harriet Camille Pinkerton (Joseph) of White Plains, MD; dear sister of Beverly Thomas of Suitland, MD, Karen Kelley of Hendersonville, TN and Michelle Bigsby of Nashville, TN; grandmother of Elisha Pinkerton, Joseph Pinkerton, II, Andrew Pinkerton, Dawn Nicole Dixon and Paul J. Mongelli; great-grandmother of Lillian Michelle Dixon, Elijah Mathis, Isiah Hunt and Imani Hunt. In addition to her parents, Judith was also pre-deceased by her brothers, the late Charles A. Thomas and Arthur Jeffrey Mitchell, Sr.
A Memorial Service will be held at New Hope Church of God, officiating Pastor Aaron Jones