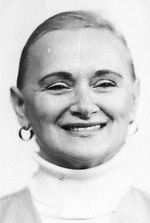 Stella K. Vones, 94 of Leonardtown, MD formerly of Newark, Delaware, passed away on September 20, 2017 in Leonardtown, MD.
Born August 27, 1923 in Newark, NJ, she was the daughter of the late Mary Pawagakis Koronakos and Peter Koronakos.
Stella is survived by her daughter Debbie (Bill) Okoniewski of California, MD, sibling; Terry McCaffrey of Colorado Springs, CO, 2 grandchildren and 1 great-grandchild, in addition to her parents she was preceded in death by her siblings; Ann Riley, Fota Koronakos, John Koronakos and Chris Koronakos.
Stella moved to St. Mary's County in 2012 from Newark, Delaware, she was a Teacher's Aide for Meadowood School for Mentally Challenged Children, she retired in 1982.
A private service for the family will be held in Newark, Delaware.