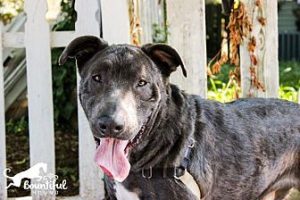 Wednesday's Pet for 9/27/2017 GREGORY  
Featured Pet: Gregory
Rescue Group: St. Mary's Animal Welfare League (SMAWL)
Breed: Shepard/Lab Mix
Sex: Male
Size: Large
Vetted: Neutered and Up-to-date with routine shots
Adoption Fee: $250.00
Gregory is a 4-year-old Shepard Mix.  He has thrived since coming into rescue.  He has completed obedience training from Think like a Dog and graduated with excellence!  Gregory is housebroken and doing well with crate training.  Gregory loves other dogs, children and cats.  Gregory loves nothing more than to be with his people.  He lived his whole life with another dog, so he would do best with another dog in the home.  Gregory is going to make any family a loyal, loving family member.
If you are interested in Gregory, please download the application HERE:
http://www.smawl.org/index.php/ready-to-adopt/applications
Email it to: smawl@yahoo.com
A little bit of breed information:
Mixed breed dogs are generally healthier than purebred because they draw from a broader gene pool. When adopting a mixed breed dog, focus more on personality rather than breed. This can help so that you appreciate the dog even more. Love him on his own terms and he will love you back more.
"He is your friend, your partner, your defender, your dog. You are his life, his love, his leader. He will be yours, faithful and true, to the last beat of his heart. You owe it to him to be worthy of such devotion."
– Unknown