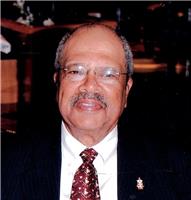 Suddenly on Saturday, September 23, 2017, William Hamilton Freeman, Sr. of Silver Spring, Maryland, entered into eternal rest. He is survived by three loving children, Karen R. Carrington, Kristie G. Freeman and William H. Freeman, Jr.; three grandchildren, Herbert D. Carrington, IV, Gwendolyn M. Carrington and Frances Love A. Pitt-Adabie; one brother, Daniel W. Harris, Jr. (Euleta) of Savannah, GA, and one sister, Magdalene Eberhart (Charles) of Atlanta, GA, and a host of other relatives and friends.
Family and friends will gather for a visitation on Friday, September 29, from 10 a.m. until time of service at 11 a.m. at Transfiguration Episcopal Church 13925 New Hampshire Ave., Silver Spring, MD 20905.
Entombment will be private.