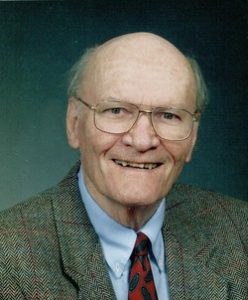 Dr. Christopher Mogan Wilson, Sr, 92, passed on to his eternal rest in the early hours of Friday, September 22nd, 2017.
Born August 6th 1925, in Nashville, TN to Felix Mizell Wilson, Sr and Eleanor Mogan Wilson, he grew up in White Plains, NY
Husband, Father, Grandfather, Doctor of Philosophy, Project Manager, Student, Teacher, Coach, Volunteer, and Friend, Dr Wilson served in many roles throughout his life. He served in WWII with the 86th Infantry, and was in Germany on VE Day. He returned to civilian life to become a scholar, obtaining degrees from Georgetown University (BA '48, MS '58) and Johns Hopkins University (Ph.D. '70).
He began a life of service and friendship in St Mary's County in 1971, when he moved down to head the Sciences Department of St. Mary's College later joining Bendix Field Engineering Corp. Until 2012 he was active not only in his career, but with family and charitable outreach. Chris served many years & roles with Big Brothers Big Sisters, Rotary, the Pastoral Counseling Center, along with one of his greater accomplishments, helping to found the Three Oaks Center. He was also an active member of the Immaculate Heart of Mary parish.
He is survived by his wife Dr. Patricia Ann Wilson & sons Mizell Wilson and Dr. Christopher Wilson, Jr. along with sisters Mary Ellen Wilson Cantor & Eleanor Wilson Sopkovich. He has one granddaughter, Isadora, born just 4 weeks earlier. He follows into the eternal life his parents and brothers, Mizell Wilson, Jr. and Felix Zollicoffer Wilson.
In Lieu of Flowers, please make donations in Chris's name to the Three Oaks Center.
Viewing is on Wednesday, September 27th, 5-7pm at Immaculate Heart of Mary Church with prayers from 7-8pm. Funeral Mass is on Thursday, September 28th ,11am at Immaculate Heart with Burial Procession to follow at noon. A repast will follow immediately.