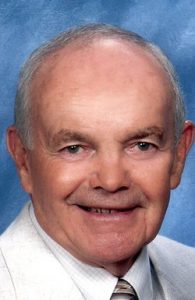 Richard Haines "Pete" Breck, 85, of Leonardtown, MD passed away September 26, 2017 at his home surrounded by his loving family.
He was born February 19, 1932 in Springfield, MA to the late Wilfred Ray Breck, Sr. and Esther Cynthia Burleigh Breck.
Pete is a graduate of Western New England College where he earned his Bachelor's degree in Business and Engineering. On September 4, 1954, he married his beloved wife, Patricia Anne Baier, in Wilbraham, MA. Together they celebrated over 63 wonderful years of marriage. In 1968 he and his family moved from Hampden, MA to St. Mary's County. He was the co-owner of Paragon Builders, developing the Wildewood neighborhood in California, MD. He later became the owner of Paragon Properties custom building many beautiful homes throughout St. Mary's County.
He was a talented singer with a gifted tenor voice. As a young boy and as an adult in Massachusetts he was a member of the church choir. After marrying his wife, he often wrote and sang songs to her throughout their marriage. He was an athlete, and loved all sports involving a ball, especially baseball in which he played for the Budweiser Eagles and later the Rocking Chair League. He also enjoyed playing tennis, ice hockey, and basketball. He was an avid sports fan, always cheering on the New York Yankees and the Washington Redskins. Together he and wife enjoyed travelling; taking annual trips to New England and Florida. They also liked to stay at their condo in Ocean City Maryland.
He was a Life Member and Past President (1975) of Leonardtown Lions Club, with over 50 dedicated years of service. He was also a Life Director and Past President of the National Association of Homebuilders. He served on the Board of Trustees as well as the Building Committee for St. Paul's United Methodist Church, now First Saints Community Church, and enjoyed serving in the Loaves and Fishes ministry which runs a soup kitchen and food pantry at the church.
In addition to his beloved wife, Patricia, Pete is also survived by his children: Richard B. "Richie" Breck of California, MD, Deborah "Debbie" Breck Mummaugh (Mike) of Leonardtown, MD, Cynthia "Cindy" Hammett (Keith) of Leonardtown, MD, Lisa Wilkinson (Joe) of Leonardtown, MD and Linda Davis of Leonardtown, MD; 19 grandchildren, 25 great grandchildren; and many nieces, nephews, cousins, extended family and friends. In addition to his parents, he is also preceded in death by his brothers, Wilfred Ray "Bill" Breck, Jr. and Edward Burleigh "Teddy" Breck.
Family will receive friends on Friday, September 29, 2017 from 5:00 – 7:00 p.m., with prayers recited at 6:30 p.m., at Brinsfield Funeral Home, P.A., 22955 Hollywood Road, Leonardtown, MD 20650. A Funeral Service will be celebrated by Pastor John Wunderlich on Saturday, September 30, 2017 at 11:00 a.m. at First Saints Community Church – St. Paul's Campus, 25550 Point Lookout Road, Leonardtown, MD 20650. Interment will be private.