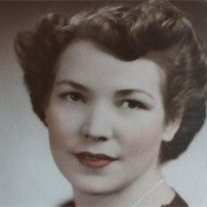 Elizabeth "Carola" Estevez, 96 of Waldorf, Maryland, died September 23, 2017.
Carola a housewife and mother who enjoyed sewing, quilting, and was a master flower gardener. She was a member of St. Peter's Catholic Church in Waldorf, Maryland. She prayed the Rosary daily. She also donated to charities all over the world.
She was the daughter of William Purcell Gardiner and Agnes Cooksey Gardiner. In addition to her parents, she was also predeceased by her husband, George Estevez, her step-son, G. Theodore Estevez, her daughter-in-law, Sandra Estevez, and several brothers and sisters.
She is survived by her sons, Richard "Dick" Estevez, William Daniel Estevez (Ellen), Timothy "Tim" Estevez (Lisa), Steven M. Estevez (Lisa), F. Edward Estevez (Vicki), and Lawrence L. Estevez (Mary); her daughter, Georgianne M. Roberts (Rick); and her sisters, Martha Ann McKean, Mary Virginia "Dee Dee" Gray, and Barbara Lee Sue Shelton. She is also survived by 17 grandchildren and 22 great-grandchildren.
Friends received on Friday, September 29, 2017 from 5-7PM with Wake Service at 7PM at St. Peter's Catholic Church and where Mass of Christian Burial will be on Saturday, September 30, 2017 at 10AM. Interment to follow in the church cemetery.