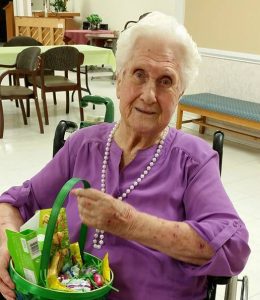 Lena "Peggie" Goddard, age 98 of Piney Point, MD departed this life and met her first Angels on Friday September 22, 2017, surrounded by loved ones at Med Star St. Mary's Hospital, Leonardtown, MD.
She was born to Edith Ann and Ernest George Stallwood in Longcot, England. She was a World War II bride, marrying Army Sergeant Paul R. Goddard in Berkshire, England. She and her son Benjamin came to the United States on the Queen Mary in 1946 landing in New York, and making their home in Piney Point, MD. Together they celebrated over 56 years of marriage before his passing in 1999. She stayed home to raise their two children. She later worked for the Singer Sewing Machine Company, in Lexington Park, MD, until her retirement in 1980.
Peggie was a talented seamstress and made many of her own clothes. She enjoyed knitting, cooking, baking, reading, playing cards, bingo, and visits from family and friends.
Peggie was a long time member of St. George's Episcopal Church, Valley Lee, MD. She spent many years helping with dinners and altar duties.
Peggie is survived by her children: Benjamin [Ben] Goddard (Mary Lynn), of Piney Point, MD, Paula Feldman (Bob), Piney Point, MD; her grandchildren: Michelle Nelson, Marsha Wilcox, Mark Goddard, Bill Goddard, Chris Goddard; her great-grandchildren: Amy and Aaron Nelson, Rashelle and Josh Wilcox, Hailey and Drake Goddard, Brittany Goddard, Jessica Abad, Kylie Errington, Taylor Gladu, Mitchell and Mason Goddard, and great –great grandchildren: Morrigan, Sophie, Charlotte and Crew, and her extended family in England. In addition to her parents and husband, she is also preceded in death by her sister Irene and brother-in-law Fred Bint of England. She will be missed by all who loved her along with the happiness she shared with family and friends who came to visit.
All services will be private.