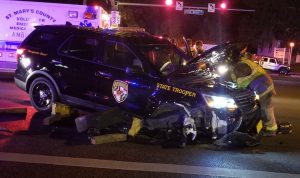 On Thursday, September 28, 2017, at approximately 11:15 p.m., police, fire and rescue crews responded to the intersection of Three Notch Road and First Colony Boulevard, in California, for the report of a motor vehicle accident.
First responders arrived on scene to discover a motor vehicle accident with injuries involving a Maryland State Police, marked SUV, and a Jeep.
Firefighters from Bay District Volunteer Fire Department, secured the SUV and extracted the Trooper from her vehicle.
The Trooper was transported to a local hospital with non life threatening injuries.
The incident is under investigation, and details will be released as they become available.