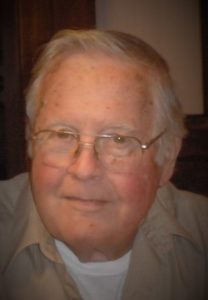 Philip Bernard Carroll, 79 of St. Inigoes, MD died on Tuesday, September 26, 2017 at his home surrounded by his loving family.
He was born November 19, 1937 in Dameron, MD to the late Bernard "Pete" Carroll and Edna Agnes Ridgell Carroll.
Philip graduated from St. Michael's High School in 1955. After graduation, he served in the United States Navy Reserves and received an honorable discharge after 6 years of service. On January 12, 1963, he married his beloved wife, Libby Gay Carroll at St. James Catholic Church. Together they celebrated over 54 wonderful years of marriage. He was the owner of Carroll's TV Repair and self-employed as a television service technician for over 25 years. He was known for his honesty and high level of service to his customers. He enjoyed thoroughbred racing, tending to his roses, and listening to classic country music. He was admired for being a quiet, gentle and humble man who was an inspiration to all who knew and loved him.
In addition to his beloved wife, Libby, Philip is also survived by his children, Philip W. Carroll and Rhonda Jean Mora (James), both of St. Inigoes, MD; his siblings: Leo E. Carroll of St. Inigoes, MD, Jeannette Kepner (Tom) of Park Hall, MD, Larry Carroll (Carol) of Shady Side, MD, John B. Carroll (Debbie) of Winston, NM, Ada M. Spelz (Joe) of St. Inigoes, MD, Teresa A. Burke (David) of St. Inigoes, MD, Marjorie Carroll of St. Inigoes, MD, Timothy Carroll (Joyce) of Pasadena, MD, Theodore Carroll of Gaithersburg, MD, Marian Trossbach of St. Inigoes, MD, and Walter Carroll (Wendy) of St. Inigoes, MD; his grandchildren: Philip Brandon Carroll, Jessica Mora, Rachel Carroll and Melissa Watts (Steve); his great grandchildren: Tiana Carroll, Alexander Norman, Lucas Henry, and Addilyn Churchwell; and many extended family and friends. In addition to his parents, he is also preceded in death by his brothers: Allan, David and George Carroll; and his granddaughter, Megan Morris.
A Memorial Service will be celebrated on Friday, October 6, 2017 at 11:00 a.m. by Reverend Scott Woods at St. Cecilia's Catholic Church, 47950 Mattapany Road, St. Mary's City, MD 20686. Interment will be private.