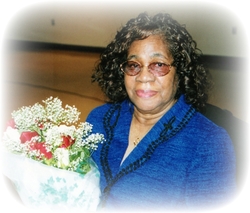 Edith Inez Corbin was born to the late Edna P. Corbin and Simon Corbin on July 10, 1930 in Ridge, MD. She peacefully departed this life at Chesapeake Shores Nursing Home in Lexington Park, MD on Thursday, September 21, 2017. She was a loving mother, grandmother, aunt and friend to many.
Inez was a life-time resident of St. Mary's County. She was baptized into the Catholic faith at St. Peter Claver Catholic Church.
Inez attended St. Peter Claver Elementary School and Cardinal Gibbons Institute in Ridge, Maryland under the guidance of the Oblate Sisters of Providence and worshipped at St. Peter Claver Catholic Church throughout her life.
Inez worked with the State of Maryland for many years, first in childcare then as a social worker aid. She also worked a second job as a seamstress to put two of her three sons through college.
Inez was a very reserved and easy going person. In spite of that, she still had a way of getting her point across in a very witty way. Inez loved to read and crochet.
Her beautiful handmade afghans were amazing and were bought by many. Aside from God, there is nothing else Inez loved more than being with her family.
Inez is survived by her children, David Barnes (Angie) of Whiteville, NC; Wayne Barnes (Denise) of Waldorf, MD; and Michael Barnes of Lexington Park, MD and his special friend Renee. She is also survived by 5 grandchildren, 10 great grandchildren, 2 sisters-in-law: Vivian Corbin of Temple Hills, MD and Mary Corbin of Ridge, MD as well as a host of nieces, nephews, extended family and friends. Inez was preceded in death by four brothers: Jesse, Russell, Emerson, and Tom Corbin; and four sisters: Elizabeth Hicks, Helena Fenwick, Doris Hewlett and Rosie Butler.
A Visitation will be held on Saturday, September 30, 2017 from 9:00 to 10:00 a.m. with a Mass of Christian Burial officiated by Reverend Scott Woods at 10:00 a.m., at St. Peter Claver Catholic Church, 16922 St. Peter Claver Road, St. Inigoes, MD 20684. Interment will follow at the church cemetery.