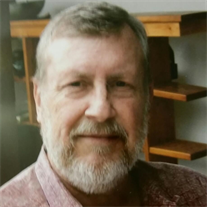 James Carolan Bush, age 65, of Port Tobacco, Maryland, passed away peacefully with his family and friends at his bedside on September 26, 2017.
Jim was born on January 16, 1952 to Carolan Arthur Bush and Betty Jean Foster Bush at Bolling Airforce Base in Washington DC. Jim attended schools in Delta, Colorado, graduating from high school in 1970. Jim was a scout with troop 486, achieving his rank of Eagle Scout in 1968. Jim grew up in Colorado, and was active in sports, archery, and hunting. After graduation he attended a Technical School in Arizona, then enlisted in the United States Navy in 1971. Jim trained in San Diego and was stationed in Adak, Alaska, Honolulu, Hawaii, and Winter Harbor, Maine. Jim retired from the Navy in 1981 and went into private sector working at the Naval Research Laboratory in Washington, DC. While living in Maryland, he was active with the Southern Maryland Archery Club, and enjoyed hunting and fishing with friends. Jim married JoAnn Mary Mattia Hall in 1999 in Maui, Hawaii. Jim and JoAnn lived in Port Tobacco, Maryland, and enjoyed spending time with family and friends, and vacationing in West Virginia and Colorado. Jim was especially fond of taking his granddaughter Alex fishing, four wheeling, and hunting.
Jim is survived by his wife JoAnn, step-daughter Kris Cheesebrew, and grand-daughter Alex Cheesebrew of Maryland, step-mother Beverly Bush of Delta, Colorado, brothers Larry (Sheryl), Alan (Sharma), and Dwain (Darlene) of Colorado, and step-sister Brenda (Thom) Hager of Sulphur, Louisiana. Jim is also survived by his great aunt, Shirley Burkdoll, age 93 of Colorado, as well as, numerous aunts and uncles, cousins, nieces and nephews. He was preceded in death by his parents and step-son Matthew Hall.
Memorial Service will be held at the American Legion Hall in La Plata, MD on Thursday October 5, 2017 at 10am located at 6330 North Crain Highway, La Plata, Maryland 20646
Flowers may be sent to The American Legion, located at 6330 North Crain Highway, La Plata, Maryland 20646.