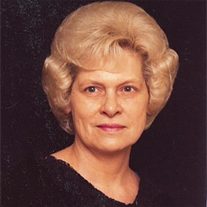 Mary Ruth (Middleton) Simmons, born April 7, 1925 in Waldorf, Maryland, departed this life on September 24, 2017 at Harvest, Alabama.
She was the youngest daughter of the late Henry Dyer and Bertha Evelyn (Cooke) Middleton.
She attended St. Mary's school, Bryantown, Waldorf Elementary and La Plata High School where she graduated as Valedictorian of the Class of 1942. In 1943 she married her childhood sweetheart, David Martin Simmons of Waldorf, in the chapel at Bolling AF Base, Washington where she was employed and he was stationed. In 1971 they moved to Montgomery, Alabama when her civilian job as computer systems analyst with USAF was transferred to Gunter AF Station in Montgomery. David obtained employment as a Parks Inspector with the Alabama Department of Conversation. In early 1982, she transferred to Andrews AF Base, Maryland, to care for her older brother, Blair Middleton, Washington, DC. She retired in 1985 as supervisory computer systems analyst employed at Andrews Air Base , Maryland and returned to Montgomery where they enjoyed their dancing hobby until David died in 2010. She then lived with her daughter, Carol, in Harvest, Alabama.
In addition to her parents and husband, Mrs. Simmons was preceded in death by sons Robert Michael and David Martin Jr., granddaughter Julia Simmons Fabula.
She is survived by sons Thomas Wayne (Joan Slade) Simmons Callaway, MD, Frank Paul (Ann Harris) Simmons, Mechanicsville, MD, John Edward (Paige Kibble) Simmons, Wildwood, GA; daughter Carol Ann Simmons, Harvest, AL; daughters-in-law Rosmund Hart Simmons and Kay Gardiner Simmons; 13 grandchildren and 17 great grandchildren.
Visitation on Wednesday, October 4, 2017 from 2 PM and 4 PM and from 6 PM to 8 PM at the Raymond Funeral Service, P.A. 5635 Washington Avenue La Plata, MD 20646.
Mass 9:30 AM Thursday, October 5, 2017 at St. Peter's Catholic Church 3320 St. Peter's Church Road Waldorf, MD 20601.
Interment to follow at Cheltenham Veterans Cemetery.