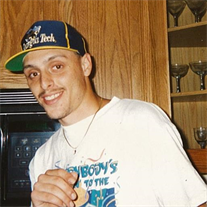 Brian Keith Herbert, age 46 of Waldorf, Maryland, died September 27, 2017 at his home with Hospice.
Brian was a Screen Printer with Corporate Sports, Inc. in Millersville, Maryland and a life-time resident of this area. He loved, especially the Dallas Cowboys, and he was always out and about with friends. He also enjoyed playing pool, cards, and slots.
He was the son of William James Herbert and Barbara Ann Glover Petropol. In addition to his parents, he is also survived by his step-father, Dominic Petropol; his step-mother, Linda Herbert; his sons, Brian Herbert, Jr., Cameron Fuller, and Morgan Harris; and his sisters, Karen and Nikki Herbert.
Friends received on Wednesday, October 4, 2017 from 10AM until time of Memorial Service at 12PM at New Life Wesleyan Church (Little Chapel), 9690 Shepherd's Creek Place, La Plata, Maryland 20646.