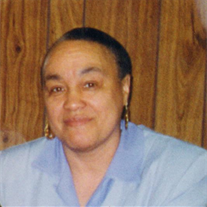 Sheila V. Fields, of Clinton, MD passed away peacefully Wednesday, September 27, 2017 at the age of 75.
Born in Washington, DC to Fannie (Lee) and Claude Harrison.
Sheila grew up in the Washington, DC area, attending and graduating from Dunbar High School. She attended Howard University before meeting the love of her life, Roger Fields. They eventually married and were blessed with two children, Roger and Patricia.
Sheila worked for the telephone company as a telephone operator when neighborhoods were linked on a single party line and families gathered around the phone for the rarity of a call. She would plug into a manual cord board and her job was considered vital; long before the existence of cordless phones and computer generated options.
Sheila had natural talent in the area of fine arts. She enjoyed painting and especially enjoyed creating art with different threads of yarn in beautiful colors which added a softness to her skills in art-making. She also loved to crochet. Over the years she made beautiful Afghans, doll clothes, clothing and doilies. Her family shared memories of cuddling up with an afghan, wearing a poncho made by her daughter delighted the clothing she made for their dolls.
Sheila was a strong, independent woman, and imparted that gift to her children. She always had a positive attitude, a wonderful sense of humor, and was a wonderful role model for her grandchildren and will be missed greatly.
She was pre-deceased by her husband, the late William Roger Fields.
Beloved mother of Roger Scott Fields (Cynthia) of Clinton, MD and Patricia Lee Fields of Clinton, MD; dear grandmother of Jennifer Diggs (John), Quentin Fields, Malik Smith and Ryon Fields; loving great-grandmother of Laila Fields, all of Clinton, MD. Also survived by her cousin, Jeffrey McCall.