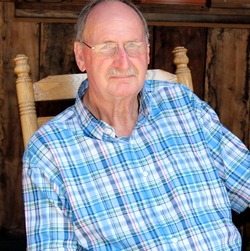 Bernard Leo "John" Smith, Jr., 77, of Bushwood, MD passed away September 28, 2017 at his home surrounded by his loving family.
John was born February 29, 1940 in Leonardtown, MD to the late Bernard Leo Smith Sr. and Mary Estelle Hayden.
On February 5, 1958 John joined the United States Navy and proudly served his country until his Honorable Discharge in February 1964 as a Lieutenant. He was employed for over 40 dedicated years by Guy Distributing in Leonardtown, MD. He was very personable and always saw the best in everyone he met. He married Marjorie Elena Dahlstrom Smith and celebrated almost 25 wonderful years of marriage until her passing. On July 25, 2001 he married his beloved wife, Annette Smith and together they celebrated over 16 wonderful years of marriage. He had a green thumb and a beautiful, bountiful garden which he enjoyed sharing his harvest with many people. He was an excellent cook, and made many delicious meals including homemade cinnamon rolls. He also enjoyed boating, fishing for perch, crabbing and listening to bluegrass music. As an avid traveler, his favorite destination was Pigeon Forge, TN. He also enjoyed taking cruises with his favorite being to the Panama Canal. He loved nature with Fall being his favorite season. As a weather enthusiast he liked to watch storms, sunrises and sunsets. However, his family was his greatest love and he relished the time spent with them, including his pet Schnoodle, "Danny", who was his best friend.
He was a Life Member and Past President of the Hollywood Optimist Club, and a member of the Seventh District Volunteer Fire Department Auxiliary.
In addition to his beloved wife, Annette, John is also survived by his children: Darren Dahlstrom (Beverly) of Hollywood, MD, Justin Hall (Kristen) of Leonardtown, MD, Jay Hall (Mary) of California, MD, Doreen Dahlstrom Kubik (Mike) of Mechanicsville, MD, and Jimmy Clevenger of Virginia; seven grandchildren; 5 great grandchildren; and many extended family and friends. He is survived by a brother John Francis Smith of Hollywood, MD. In addition to his parents and first wife, Marjorie, he is also preceded in death by his children, Devlin Dean Dahlstrom and Pamela Jane Dahlstrom Vogeley. His brothers and sisters: William Benidik Smith, Mary Ellen Higgs, Joseph Lee Smith and Mabel Marie Wathen.
Family will receive friends on Tuesday, October 3, 2017 from 10:00 to 11:00 a.m., with a Memorial Mass celebrated by Reverend Anthony Lickteig at 11:00 a.m., at Holy Angels Catholic Church, 21340 Colton Point Road, Avenue, MD 20609. Interment will be private.