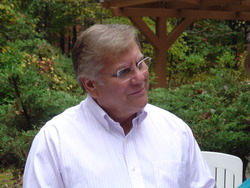 Robert (Bob) A. Augustine, 71, of Leonardtown, MD, passed away at Georgetown University Hospital on Thursday, September 28, 2017. He was the husband of Anneliese Nitsch Augustine, with whom he shared 8 years of marriage. Born in Brooklyn, NY, he was the son of the late Harriet and John Matthew Augustine. Bob was an active Member of First Saints Community Church in Leonardtown, where he played in and ran the soundboard for the Praise Band.
He is survived by his wonderful wife Anneliese; his son Christopher (Myra) and daughter Jaime, both by his first wife, Cathy Walker; grandchildren Caitlin, Michael, Ehmilae; great-grandson Cody; his sister Susan Brennan (Tom) and numerous cousins. After serving for 4 years as a Sonar Technician in the U.S. Navy, Bob worked in Norfolk VA, Jacksonville FL, and St. Louis, MO, as a Field Engineer for Grumman. In 1999, he moved to St. Mary's County, where he worked as a Program Manager for PMA 260 where he utilized his ability to unite people and execute activities to deliver products in support of our Sailors and for Marines until his retirement in 2011. In retirement he loved being with Anneliese, making music, traveling and their dog Rocky.
Bob was a past president and keystone lifetime member of Southern Maryland Traditional Music and Dance, a non-profit organization dedicated to the preservation of traditional and contemporary folk music and dance in American culture. He began the HomeSpun Coffee House concerts and open mics, bringing talented performers from all over the U.S. to Southern Maryland, as well as providing a venue for local musicians to play and hone their skills. Prior to moving to Leonardtown, Bob worked with his late wife Lorie O'Connor and music legend Bob Zentz to launch similar traditional efforts in Norfolk, VA.
Bob had a wonderful singing voice, and was a talented guitarist, mandolin, and bouzouki player, having performed since he was 14 years old. He performed with numerous musicians and was an essential member of several local bands, including Folk L Point, Fortunes Turn, the Folk Salad Trio and Harmony Grit.
Services will be held at First Saints Community Church, Leonardtown, MD on Saturday, October 14, 2017 with visitation at 10:00 am and services starting at 11:00.