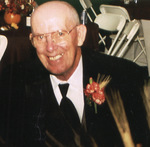 Elmer Gordon Spalding, Sr., 86, of Avenue, MD passed away on October 1, 2017 at his home. Born on June 22, 1931 in River Springs, MD, he was the son of the late Mable Rita Bostwick Spalding and Leonard Calvert Spalding. Elmer was the loving husband of the late Marion Patricia "Patsy" Bailey Spalding whom he married on November 9, 1953 in Holy Angels Catholic Church, Avenue, MD. He is survived by his children; Glenda Guy (Walter) of Loveville, MD, Donna Gibson (Steve) of Bushwood, MD, Ronald Spalding of Solomons, MD, E. Gordon Spalding (Diane) of Solomons, MD, 8 Grandchildren, 18 Great-Grandchildren and his brother Thomas C. Spalding, Sr. of Medleys Neck, MD. Elmer is preceded in death by his siblings; Mary Agnes Abell, Russell Spalding, James Spalding and Mary Sue Erdman.
Elmer was a lifelong resident of St. Mary's County. He was employed as a Boiler Operator for the Federal Government retiring in March of 1989 after 26 years. Elmer served in the United States Army and was stationed in Whittier Alaska during World War II.
The family will receive friends on Wednesday, October 4, 2017 from 5:00 PM – 8:00 PM with prayers recited at 7:00 PM in the Mattingley-Gardiner Funeral Home Leonardtown, MD. A Mass of Christian Burial will be celebrated on Thursday, October 5, 2017 at 10:00 AM in Holy Angels Catholic Church Avenue, MD with Father Anthony Lickteig officiating. Interment will follow in Sacred Heart Catholic Cemetery Bushwood, MD. Pallbearers will be: Michael Gibson, Matt Colliflower, Matthew Gordon Spalding, Tim Glass, Sean Roche and Ronnie Spalding.