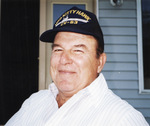 Joseph "Joe" Clarence Gardner, Sr., 87, of St. Inigoes, MD passed away on September 26, 2017 in Charlotte Hall, MD. Born on March 15, 1930, he was the son of the late Julia Swirtz Gardner and Joseph Caswell Gardner.
Joe was the loving husband of Dolores Wilma Gardner whom he married in Spokane, WA in 1952.
Joe is survived by his children; Joseph C. Gardner, Jr. of Piney Point, MD, Thomas H. Gardner of Drayden, MD, Richard L. Gardner of Lexington Park, MD, James W. Gardner of Leonardtown, MD 6 grandchildren, 2 great grandchildren and brother; Robert Gardner of AL. He was preceded in death by his brother Marvin Gardner.
He graduated from Cary H.S. in NC in 1948. As well as earning a Bachelor's of Science Degree in Electrical Engineering from North Carolina State College in Cary, NC in 1958.
Joe joined the United States Air Force from 1950 to 1954, his duty stations included Texas and Washington State. Joe worked as an Electrical Engineer for the Naval Air Test Center at Patuxent River, MD for 27 years, retiring in 1985. He moved from Cary, NC to St. Mary's County, MD in 1958.
Joe was a member of the Elks Club, National Society Sons of the American Revolution. He enjoyed construction, tree farming and gemology.
The family will receive friends on Wednesday, October 4, 2017 from 10:30 Am to 11:30 AM in the Mattingley-Gardiner Funeral Home Leonardtown, MD.
Interment will follow in Maryland Veterans Cemetery Cheltenham, MD at 1:00 PM.
Arrangements provided by The Mattingley-Gardiner Funeral Home, P.A. Leonardtown, MD.