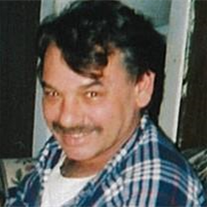 Norman Edward "LuLu" Stone, age 63 of Cobb Island, Maryland, died September 29, 2017 at St. Mary's Hospital in Leonardtown, Maryland.
Norman was a newspaper carrier for 15 plus years with both The Washington Post and The Maryland Independent. He was of the Catholic faith who loved George Jones and Elvis Presley music and antiques. He also enjoyed watching Bat Masterson, Bonanza, and wrestling on TV. Most important to him was time with his family.
He was the son of Joseph Aloysius Stone and Cleo Elizabeth Kendrick Stone.
He is survived by his wife of 14 years, Virginia Marie Bess Stone; his son, Bubba Stone; his daughters, Pamela Hall (Greg), Zollie Tolson (Richard) and Lizzy Stone; his brothers, Leon Stone (Diane) and Billy Stone (Ellie); his sister, Mary Benton (Eugene); and his grandchildren, Hope and Kara. He is also survived by a number of nieces and nephews.
Friends received on Monday, October 9, 2017 from 9AM until time of Funeral Service at 11AM at Raymond Funeral Service Chapel, 5635 Washington Avenue, La Plata, Maryland 20646, officiated by Reverend Steve Davis.