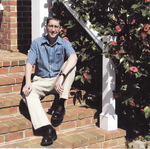 Benjamin Joseph Moore, 29, of Leonardtown passed from this life on 29 September 2017 at MedStar Georgetown University Hospital surrounded by family and friends after a long illness. He was born on 21 August 1988 in State College, PA. He is the son of Timothy and Brenda Moore of Leonardtown and the brother of Rebecca Moore and Kristen Moore of California, MD, and the brother of Brian Moore of West Chester, PA. Ben is the grandson of Ed and Vera Calhoun of Gettysburg, PA and the late Harry Moore of Littlestown, PA and of Joseph Shrader and the late Margaret Shrader of Littlestown, PA. He also leaves behind aunts, uncles, cousins and friends.
Ben worked at Patuxent River Naval Air Station as an Aerospace Engineer on the Joint Strike Fighter Test Team. He was also a Boy Scout since the age of 5, earning the rank of Eagle Scout at 14 after building a toddler playground in Derby, KS. He was also in the Order of the Arrow and was inducted into the OA Brotherhood in Ramstein, Germany. Growing up in an Air Force family, Ben attended 6 different schools in 5 different states starting in North Pole, AK and continuing in Centerville, OH, Burkburnett, TX, Derby, KS, and Albuquerque, NM. He graduated from La Cueva High School in Albuquerque, NM in 2006. Ben earned a Bachelor of Science Degree in Aerospace Engineering from Embry-Riddle Aeronautical University in Prescott, AZ in 2011.
Before his illness, Ben was an avid runner and cyclist, participating in numerous races in and around Phoenix as well as in Prescott, AZ. He also enjoyed hiking and camping, especially in the mountains and deserts of the southwestern United States. While in college, he enjoyed hiking in the Grand Canyon and the National Parks in Utah. Ben also enjoyed skiing in New Mexico and France and especially enjoyed family ski vacations to Keystone, Colorado.
The family will receive friends for visitation on Tuesday, 3 October, 5:00 – 8:00 PM with prayers at 6:30 at Mattingly-Gardiner Funeral Home in Leonardtown, MD. A Mass of Christian Burial will be held at Saint Aloysius Catholic Church in Leonardtown on Wednesday, 4 October at 10:00 with Rev David Beaubein and Rev John Dakes as celebrants. The family will also receive friends for visitation on Thursday, 5 October, 6:00 – 8:00 PM with prayers at 8:00 at Little's Funeral Home in Littlestown, PA.
Interment will be held on Friday, October 6, 2017 in St.Aloysius Catholic Cemetery Littlestown,PA.