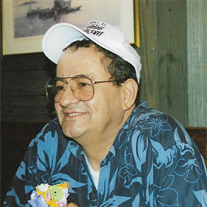 Frank "FaFa" Thomas Deckers, 74, of laurel, MD, passed away on Friday, September 29, 2017, at home surrounded by his loving family.
Frank was born on May 13, 1943, in Arcen, Holland, to Bertha (Van den Kronenberg) and Wilhelm Deckers. When Frank was seven years old, his family immigrated to the United States in 1950.
He worked as an ASE certified mechanic and enjoyed home remodeling. He also enjoyed raising flowers, cruising, traveling…he was fluent in three languages. His most enjoyable times were spent with his family.
Frank made the decision to donate his body to science. He was very involved in the Red Cross and was a regular blood donor for many years.
He was the beloved husband of Carolyn [Hoffmaster] Deckers for 28 years, celebrating their wedding anniversary in January, 2017. He was the loving father of Dawn Frances Riley (Roger) and Deena Lyn Disque; step-father of Stanley Burke (Mary), Deborah Murray and Patrick Burke. He was the grandfather of 16 grandchildren and great-grandfather of 10. Frank was the brother of Gary Deckers and Dorothe Kidd.
He was preceded in death by stepson – Matt Burke and brothers Charley, Billy and Ted.
Family invites friends to Lee Funeral Home Calvert, 8200 Jennifer Lane, Owings, MD, on Thursday, October 5th from 3 pm until start of Memorial Gathering at 5 pm.