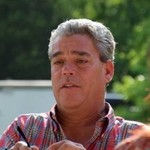 Andrew Leroy Cather died suddenly at home on October 5, 2017. He was 57.
Born June 25, 1960 in Evanston IL, he was the youngest child of Donald Warren Cather and Maxine Miller Cather. He grew up in Port Chester, NY, and Stone Mountain GA. In 1979 he moved to Colton's Pt., MD, with his brother Don (Mary), and mother Maxine, to establish Cather Marine Inc. Together they built a business well known to local waterman, fishermen, and boaters.
Andrew was a gifted mechanic beyond his training and experience. His skills as a cook he brought with him from his time working for his sister Martha McGuire (Jerry) at their business, Kelly's Sea Level, in Rye, NY.
His greatest joy was his family and friends, especially his son, Andrew, Jr., (Jamie) and granddaughter Maclaren Ann. He loved his step grandchildren Tyler, Riley, and Sophie, and his step children Brent, Heather and Whitney.
All who loved him will remember his cooking, he generous spirit, and his sense of humor.
His father, Donald, his wife, Valerie, his brother Terry, brother Peter, and sister Jeannie preceded him in death.
Andrew is survived by his son, Andrew Jr., (Jamie), his granddaughter Maclaren, his mother, Maxine, brother Donald Jr., brother Bernard, and sisters Judy, Martha, Samantha, numerous nieces and nephews, and his first wife Louise Cather.
His family and friends will miss him terribly. A Celebration of life will take place, Thursday, October 12, 2017, at Olde Breton Inn in Leonardtown, MD, from 3 to 7Pm.