NEW this year! Purchase a Halloween Fast Pass for $5/person and jump the line, plus enjoy a NEW festival layout designed to get visitors in faster!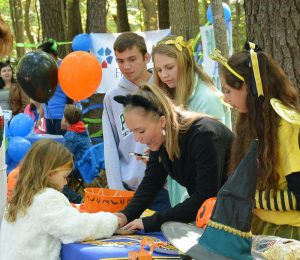 Annmarie Sculpture Garden & Arts Center in Solomons, Maryland, will host their annual trick-or-treating festival, Halloween in the Garden, on Saturday, October 28, 11:00 a.m. to 4:00 p.m. If you are looking for a fun family-friendly Halloween activity, this is the place to be! For the 18th year, youngsters and their families are invited to parade down Annmarie's Wooded Path collecting treats and small gifts from more than 70 booths. Each booth is decorated and hosted by a Southern Maryland community organizations or business. Admission is $2.00 per person and will benefit several local charities, including the American Legion's Holiday Food Basket Program, the Annmarie Scholarship Fund, Adult Daycare of Calvert County, the Solomons Volunteer Fire Department, Patuxent High School NJROTC, and Three Oaks Center Veterans Initiative. Trick-or-treating bags will be provided courtesy of Smile Castle Pediatric Dentistry. New this year, purchase a Fast Pass for $5/person online at www.annmariegarden.org and avoid the wait in the general admission line! Proceeds from the Fast Pass sales will also benefit the listed charities. Halloween in the Garden will feature a new festival layout designed to get visitors started on their trick-or-treating adventure faster than ever!



Halloween in the Garden is a wonderful opportunity to enjoy the beautiful fall colors in the Garden, and celebrate the change in the season by participating in this beloved Southern Maryland family tradition. The Garden will be full of spooktacular decorations, so don't forget to bring your camera to capture wonderful photo opportunities and memories. Dress the whole family up in their Halloween finest and enjoy a day of trick-or-treating and fall fun! There will be food vendors selling family-friendly food and snacks. Visitors will also be able to shop from vendors including independent consultants, handmade crafts, and more.
Parking is free and will be located in the field adjacent to the Garden—Patuxent High School NJROTC students will be on hand to assist and guide vehicular traffic. Halloween in the Garden is a smoke-free and pet-free event, so leave your cigarettes and pets at home. Purchase a Fast Pass online for $5 per person and jump the line, or buy your ticket the day of the event for $2 per person. For additional information, call (410) 326-4640 or visit www.annmariegarden.org.