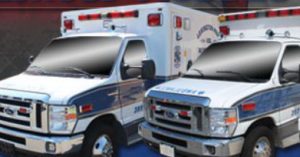 On Tuesday, October 24, 2017, at 4:15 a.m., dispatchers at the St. Mary's County Emergency Communications Center were made aware that Sheriff's Office Deputies were unable to hear them. The computer system alerted dispatchers to several minor system alarms. Following protocol they then transitioned to their portable backup radios and said they were able to communicate with all field units. Additionally in accordance with protocol, dispatchers contacted a Radio Tech and Deputy Director of Emergency Services and Technology, Steve Walker to resolve the issues.
At approximately 6:30 a.m., the St. Mary's Sheriff's Deputies and fire and EMS personnel were alert for a reported baby not breathing.
Field personnel at fire and EMS departments in the county were not notified of a problem with the system prior to the call at 6:30 a.m..
According to Shawn Davidson, Chief of the Lexington Park Volunteer Rescue Squad, at the time of the 911 call for service for the reported baby not breathing on Liberty Street in Lexington Park the radio system was still not operating properly. The alert tones that signal EMS volunteers to respond to a call failed to activate for providers in Lexington Park and the staffed ambulance crew was unaware of the call. Fire personnel were alerted by a third-party phone application. An ambulance was eventually made aware of the call and responded arriving 14 minutes after the initial units were dispatched.
Bay District Volunteer Fire Department Chief, Robert Wahrenbrock also expressed his concern over the lack of notification of the communications system failure. "It would have been the easiest thing to let us know we needed to monitor for calls," he said. Wahrenbrock confirmed that the fire department's official alert system connected to the county's dispatch system did not work either. He continued, "If we didn't have Active 911 plugged into our station systems my guys would have never known."

Shawn Davidson, chief of the Lexington Park Volunteer Rescue Squad also expressed frustration. "It's not like they don't know how to contact every EMS and fire chief in the county to let us know there's a problem," Davidson said. "The only reason our crew knew about the call was that the driver happened to pass through the radio room and hear a request for response from the ambulance. He advised the dispatch center that he would respond as soon as his crew was ready and sent a crew member to alert the provider in charge to the call so they could go."
The Lexington Park Volunteer Rescue Squad is involved in 49% of dispatches in St. Mary's County. They staff two crews 24/7/365 and were dispatched nearly 7,500 times in fiscal 2017. There was a staffed unit available and reported to the dispatch center at the time of the call Tuesday morning.
"We can't go to calls we don't know about," Davidson said. "But," he continued "the problem is bigger than a single incident. I have been saying privately for years and publicly since July that leadership change was necessary at ES&T. I've had private conversations with commissioners and the county administrator expressing my concerns and frustration with obstruction and lack of communication from the director."
Davidson says that the most unfortunate thing about the call Tuesday morning that has garnered so much attention is that it isn't the real problem but rather a symptom of systemic problems that volunteers in St. Mary's County have been raising issues about for a very long time. He says that when volunteers instigated a SWOT (Strengths Weaknesses, Opportunities and Threats) analysis the director of Emergency Services & Technology refused to participate. He went on, "We have identified weakness in our system and devised solutions only to have the solutions delayed or scuttled outright by the director. We have watched the director sideline and marginalize competent career public servants through a combination of micromanagement and threats. All these concerns have been expressed to various government officials to no avail."
Davidson went on to say, the original combination of Emergency Services with Information Technologies was undertaken by the St Mary's County Commissioners as a cost cutting measure that eliminated a director-level salary from the budget. Since then the addition of a deputy director's position has limited the cost effectiveness of that step. "There is a widely held belief that Mr. Kelly was installed in his current position and has been protected in it due to his friendship with Commissioner Morgan,". He says that Morgan (R – Lexington Park/California) is one of the commissioners he's expressed concerns to over the length of his tenure who appears to ignore any concerns expressed to him about Mr. Kelly's performance.
"Commissioner O'Connor seems to be the only one willing to actually look at the problems we're facing and take steps to correct the issues that led to the kind of system failure we saw this week," Davidson said.
Reached for comment, Commissioner John O'Connor (R-Avenue/Mechanicsville/Charlotte Hall) said, "My thoughts and prayers are with the family during their time of loss. Not a soul on earth should have to suffer such a tragedy." When asked about the concerns expressed by fire and EMS leaders he said "The situation being brought to light by the fire and rescue community are staggering, and are being taken very seriously."
Davidson expressed support for the idea of outside investigators looking into the failure Tuesday morning. "Fundamentally the county government is trying to protect itself," he said. "If they don't want the impression of clouding facts, searching for excuses and attempting to scapegoat whomever they need someone outside looking in to be transparent. Maybe then they'll see the need to fix fundamental flaws. This shouldn't be a question."
Wahrenbrock agrees. "This situation should have never happened," he said. "Responders should have been told the radio system was not working properly so we could adapt. That was a management decision from the director. So someone he can't influence needs to look at it."
When asked for the best solution both chiefs agreed: replace the Director of the Department of Emergency Services and Technology. "Mr. Kelly is a good man," Davidson said, "but he isn't the right man to be the ultimate word on public safety in St. Mary's County."

The St. Mary's County Department of Emergency Services and Technology Offered the following response regarding the October 24 Radio System Operations.
 The St. Mary's County Department of Emergency Services and Technology has received a number of inquiries regarding the emergency communications radio system on the morning of October 24. The department has completed an initial investigation.
At approximately 0415 hours on October 24, 2017 Emergency Communications Dispatchers received a radio communication from a deputy.  Staff responded to the unit however no response confirming the transmission was received.  Police dispatchers noticed when attempting to key up on the console there was a delay that is not usually there. Other sheriff's units attempted to radio in and were unable to hear us answering them back. Sheriff's Office Headquarters was able to acknowledge their messages.
The computer system alerted dispatchers to several minor system alarms.  Immediately we transitioned to our portable backup radios and were able to communicate with all field units.  Contact was made with the Radio Tech and the Deputy Director Steve Walker.  Tests pages were performed which confirmed an issue with paging.   At 0434, the 9-1-1 center received a call for a Residential Fire Alarm – this call was dispatched with paging tones broadcasted successfully via the back-up paging system.
A staff member was sent to the back-up 9-1-1 center and confirmed that the consoles at this site were also impacted.
At approximately 0550 the Radio Technician arrived at the 9-1-1 Center and began troubleshooting.  Several tests with audio and page tones were performed with successful tones transmitted to Forestry and Fire Company 9's page tones from the console.  The Technician advised to restart our console radios. At this time dispatching from the consoles was resumed.
At 0635 a CPR in Progress call was received at our 9-1-1 Center.  Communications received a call regarding a 2 week old male unresponsive and not breathing.  Dispatchers initiated EMD and began assisting the caller and immediately began alerting the FIRE/EMS response assignment.  St. Mary's County utilizes multiple systems to alert our First Responders of a Call for Service – Page Tones, Text Messages, and Active 9-1-1 notices. The Alerts were broadcasted at 0636 to Fire Company 3, EMS Station 39, and Advance Life Support.  At 0637 St. Mary's County Sheriff and Maryland State Police are simulcast dispatched.  Brush3 reports enroute at 0639.  Safe3 reports enroute at 0640.  Medic3 and Sheriff's Deputy report enroute at 0641.  In accordance with dispatching protocol at 0642 the Duty
Ambulance (Station 39) is challenged (second attempt).  At 0642 Station 39 responds that they are waiting for Primary Care (PC) – dispatchers contact Pax River requesting Paramedic Ambulance from the base.  Sheriff Unit reports on location at 0643 and alerts are broadcasted to Station 38, Company 6 Ambulance, Ambulance 139 and tones resounded for EMS Station 39 Duty Crew.  Safety 3 arrives on scene and begins CPR at 0643.  A139(BLS) and A399 report enroute at 0645.  A399 arrived on-scene at 0649. *time stamps below
While on the phone, dispatch confirmed that the child was not breathing and began giving the caller CPR instructions for an infant.  The caller advised another occupant of the residence was performing CPR. Using EMD (Emergency Medical Dispatch), the dispatcher went over the instructions with the caller to make sure they were performing CPR correctly.  While being assisted with Pre Arrival Instructions, the caller terminated the phone call.  Immediate attempts to regain communication with the residence where unsuccessful.
Our thoughts and prayers go out to the family and friends of this infant.  Our community works very hard to provide the best response possible to every call for help received at the 9-1-1 center. Dispatchers, Police, Fire, and EMS constantly train and are always seeking ways to improve our response. We continually conduct comprehensive reviews of policies and system performance.
*(Time Stamps)
     0635 – 911 call from 21627 Liberty Street. Call lasted 2:39 sec
     0636 – Dispatched Co3, Duty Ambulance St39, ALS
     0637 – Simulcast Sheriff units on Sheriff Main
     0637 – Simulcast MSP units on MSP Channel
     0638 – Co3 awaiting a driver on E32 Portable
     0638 – Safety 3B to the station
     0639 – Brush 3 responding
     0640 – Safety 3B to the scene
     0641 – Medic 3 to the scene
     0641 – Sheriff unit P270 in area attempting to locate
     0642 – Challenge Duty Ambulance to respond
     0642 – St 39 awaiting PC
     0642 – CS Martin call NDW Dispatch to request Paramedic Ambulance off of Pax River
     0643 – Sheriff units on location
     0643 – Station 38, Co6 Ambulance, Ambulance 139 alerted to call. Resound tones for 39 Duty Crew
     0643 – Safety 3 on scene
     0643 – Safety 3 with CPR
     0645 – A139 responding BLS only
     0645 – A399 responding
     0646 – Station 39 and Ambulance Co6 Cancelled
     0648 – A139 placed in service due to their location
     0649 – A399 on scene
     0651 – Co3 units ready
     0651 – A399 Priority 1 to MSMH
     0651 – CS Martin notified MSMH ER of incoming patient
     0656 – Medic 3 on A399 in route to MSMH Priority 1 CPR
     0710 – Patent arrived at MSMH