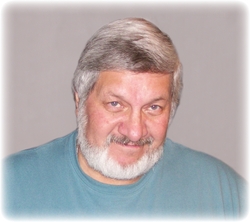 Earl "Stewart" Otta, 66, of Hollywood, MD passed away at his home on Saturday, October 28, 2017, surrounded by his family.
He was born February 21, 1951 in Salt Lake City, UT to Mary Stewart Otta and the late Wilfred E. Otta.
Stewart served in the U. S. Navy, retiring in 1990 after being stationed at Patuxent River Naval Air Station in 1980. After retirement, he worked for Dyncorp until retiring in 2013.
He married his wife Roberta "Bobbie" (Dooley) in Leonardtown, MD. They had two daughters, Carole Otta of Surfside Beach, SC, and Kelly Otta of LaPlata, MD, and three grandchildren, Zane Marcos, Charlie Otta, and Baylee Sowatskey.
Stewart and was a Life Member of VFW Post 2632. He belonged to several other clubs, including Potomac Victory Riders Club, American Legion Post 274 and Fleet Reserve Branch 93.
He is survived by his mother Mary Otta of Ontario, CA, his siblings Mary Ortega of Ontario, CA., Susie Coulthard of Richland Hills, TX, Patty Story-Otta of LasVegas, NV., Jenny Otta of Ontario, CA. and Jimmy Otta of Oro Valley, AZ.
Family will receive friends on Thursday, November 2, 2017 at Brinsfield Funeral Home, 22955 Hollywood Road, Leonardtown, MD 20650. Visitation begins at 12:00 PM with a Memorial Service at 1:00 PM. Interment will be private.
In lieu of flowers memorial contributions may be made to Hospice of St. Mary's, P.O. Box 625, Leonardtown, MD 20650 or St. Mary's Animal Welfare League, P.O. Box 1232, Leonardtown, MD 20650.