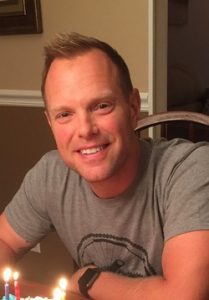 Matthew Thomas Farasy passed away tragically and unexpectedly at the young age of 37 on October 28, 2017. He impacted so many in his far-too-few years; bringing a smile to the face of all who knew him with his infectious optimism and tender heart. Matt was a loving husband and father, faithful brother and brother-in-law, fun-loving uncle and loving son and son-in-law.
At a young age, Matt was actively involved in baseball and soccer. While attending St. Vincent Pallotti High School, Matt was an accomplished wrestler, played lacrosse and enjoyed mountain biking. At Frostburg State University, Matt was a brother of the Delta Beta Chi Fraternity where he made lifelong friends.
Matt's passions included cycling and golfing but his true passion was spending time with his wife Julie and children, Eden and Nate. They were the love and light of his life and there was nothing he wouldn't do for them.
He leaves behind a broken-hearted family: wife Julie (Rudman) Farasy, 6 year old daughter Eden Virginia and 3 year old son Nathan Andrew. He is survived by his parents Thomas and Kathleen Farasy, sister Elizabeth (James) L'Esperance, brothers Michael (Kelly) Farasy, Brian (Tracy) Farasy, mother and father-in-law Martin and Gail Rudman, brother in law Patrick (Sarah) Rudman and uncle to Mason, Mackenzie, Addison, Avery Farasy and Nora and Jane Rudman.
Matt was a well-respected member of his community, a man of integrity and honor, and an example of dedication within his work place.
In Matt's honor, visiting hours will be held at Brinsfield Funeral Home,22955 Hollywood Road, Leonardtown, MD 20650 on Monday evening, November 6, 2017 between the hours of 5:00pm and 8:00pm.
A funeral service will be held on Tuesday, November 7, 2017 at 10:00am at Brinsfield Funeral Home. Interment will private.
In lieu of flowers the family has requested donations be made to gofundme.com/farasy-family-education-fund.