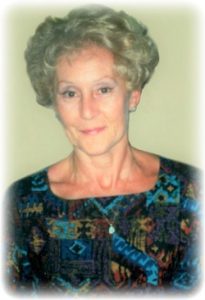 Mary Lillian Thompson passed away on October 27, 2017 at her home in Hollywood, MD at the age of 83. Mary was born in Great Mills, MD on May 26, 1934 to the late Sarah Massey Adams and George Parren Adams.
Having developed polio at the age of three, Mary was hospitalized in Baltimore, MD where she received treatment and physical therapy for several years. Upon returning to her family's homestead in Park Hall, MD, Mary defied expectations with her determination and ability to walk with the aid of steel leg braces and forearm crutches. While attending local schools in St. Mary's County, as well as the Wilson Workforce and Rehabilitation Center in Fishersville, VA, Mary enjoyed her upbringing on the farm and shared in the responsibility of her family's livelihood.
Mary's tenacious strength was an attribution for living her life to the fullest. In her late teens, she relocated to Washington, D.C. for employment opportunities. Returning to St. Mary's County, Mary worked for various insurance agencies and Peebles Department Store. Ultimately achieving her goal, the vast majority of her career ensued serving in multiple administrative positions for the Naval Air Station Patuxent River, where she retired in 1997. Mary earned numerous Performance Awards and received many Letters of Appreciation from the Commanding Officer.
Mary married Robert Phillip Thompson and raised two daughters, Jan and Christy, who she dedicated her life to. Her mother Sarah taught her how to sew and she became a talented seamstress making most of her daughter's clothes, as well as Halloween costumes, Christmas stockings, and more. She loved the outdoors, gardening, and basking in the sun. And she thoroughly enjoyed precious moments with babies and children.
Mary was preceded in death by her parents, George and Sarah Adams, and all nine of her siblings, Francis Adams, Margaret Adams, Richard Benjamin Adams, Thelma Jean Adams, Janice Marie Adams, George Robert Adams Sr., Joseph Henry Adams, Helen Cecelia Alston (Adams), Elizabeth (Betty) Ann Davis (Adams). She was also preceded in death by her husband, Robert Phillip Thompson, mother-in-law, Margaret Dean Thompson, father-in-law Phillip Roscoe Thompson, brother-in-law Ronal Dean Thompson Sr., and sister-in-law Barbara H. Thompson.
She is survived by her daughters Janayth Margaret Kiger (Thompson) of Hollywood, MD, Christina Diara Thompson of Philadelphia, PA, and her son-in-law, Jerry Marlin Kiger Jr. whom she adored as if he was her own son. She is also survived by many nieces, nephews, cousins, and other family members.
Mary accepted the hardships of her life with grace and dignity. She was a kind and generous woman of great humility, and would do without for herself so that she could give to others. Mary leaves a legacy of faith, courage, strength, kindness, and morality. She was loved and admired by all that knew her. With so many cherished memories, her love will live forever in our hearts.
Family will receive friends on Friday, November 3, 2017 from 5:00 to 7:00 p.m., with a prayer service at the Brinsfield Funeral Home, 22955 Hollywood Road, Leonardtown, MD 20650. A Funeral Service will be held on Saturday, November 4, 2017, 9:00 a.m. at Holy Face Church, 20408 Point Lookout Road, Great Mills, MD 20634. Interment will follow at Holy Face Cemetery.
In lieu of flowers, memorial contributions may be made to Hospice of St. Mary's, P.O. Box 625, Leonardtown, MD 20650.