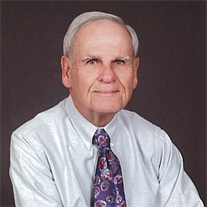 Hugh A. Waters, Jr., 85 of Bryans Road, Maryland, died October 26, 2017 in La Plata.
Hugh was a sales representative for 45 plus years, mainly with food service companies. He was a member of St. Mary Star of the Sea Catholic Church in Indian Head, Maryland. He loved taking care of his home and lawn, smoking his cigar and his pipe, visiting with people, and had a great love for life.
He was the son of Hugh A. Waters, Sr. and Nancy O'Brien Waters. In addition to his parents, he was also predeceased by his brother-in-law, John DeLawrence.
He is survived by his wife of 58 years, Margaret Langley Waters; his son, Kevin P. Waters (Bernie); his sisters, Theresa DeLawrence and Sister Mary Patricia Waters, MSC; and his grandchild, Shannon Waters.
Friends received on Thursday, November 2, 2017 from 9:45AM until time of Mass of Christian Burial at 11AM at St. Joseph's Catholic Church (Pomfret, Maryland). Interment to follow in the church cemetery.