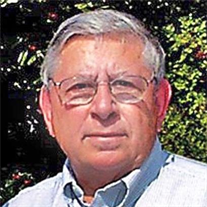 Boyce Lee Duer, 76, long-time resident of Waldorf, MD, died on October 29, 2017 at MedStar St. Mary's Hospital in Leonardtown, MD.
Born on August 24, 1941 in Woodbury, NJ, he was the son of the late Edna Isgate Duer and Jessie Duer. Mr. Duer served in the U. S. Air Force and was Honorably Discharged in 1967 at the rank of Staff Sergeant. He owned and operated the Wild Bird Center in Waldorf for many years and was the owner and founder of Forest Edge Wildlife Products. Mr. Duer was a member of the National Audubon Society and the N.R.A. He enjoyed bird watching, fishing, wildlife photography and dog handling.
In addition to his parents, Mr. Duer was preceded in death by his granddaughter Amanda Duer.
He is survived by his wife of 55 years Delores A. Dee Duer; children Jeffrey (Anita) Duer and Debbie (Kevin) Beall; granddaughters Siarah and Sydnie Beall; great grandsons Xavier and Trenton; his long-time companion "Buddy".
Memorial service at 5 PM on Friday, November 3, 2017 at Raymond Funeral Service, P.A. 5635 Washington Avenue La Plata, MD 20646.
A private interment will be held at a later date.